The Class Grade Report allows teachers to set up customizable 'report card' style reports.  These include a customizable Grade Level (A, B, C, etc.) and a customizable Grade Range (i.e. 90 – 100 % = A).  The grading scales can be customized with point values for each test.
Teachers have the ability to set a grading scale for tests on the gray Subject Tabs only. If there are blue (school) or purple (district) managed subject tabs, the grading scales are managed by the school and district.
At the bottom of this Support Page, two videos are available. Below are step-by-step instructions using the wizard to set up the grading scales, grading ranges, and running the Class Grade Report:
1. Select "All Students"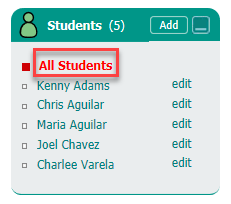 2. Click "Class Grade Report":

3. On the Intro Screen, click "Next".
4. Click on one of the common scales or click "Create Your Own". The following steps are for creating your own Grading Scale.
5. Select the number of levels in your Custom Grading Scale. It can be edited later.

6. Step 2 – Customize your Grading Scale with the Grade Name, Description, and Color.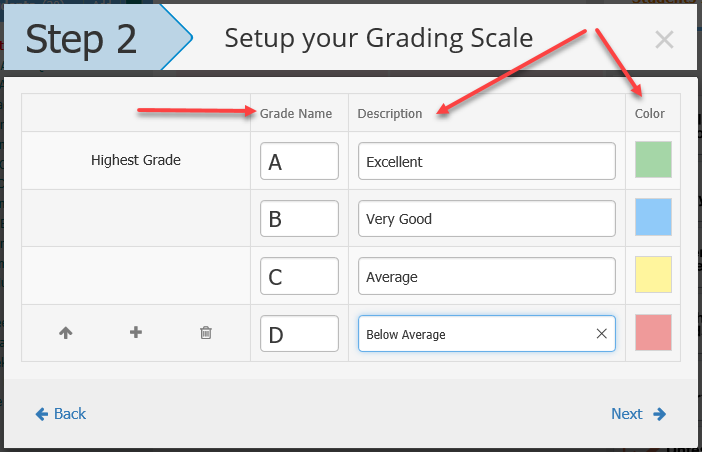 7. Hover over the level's row to see:
The arrow can be used to move the scales to a different position.
Another level can be added by clicking the 'plus' sign
The level can be removed by clicking the trash can.
8. Click Next.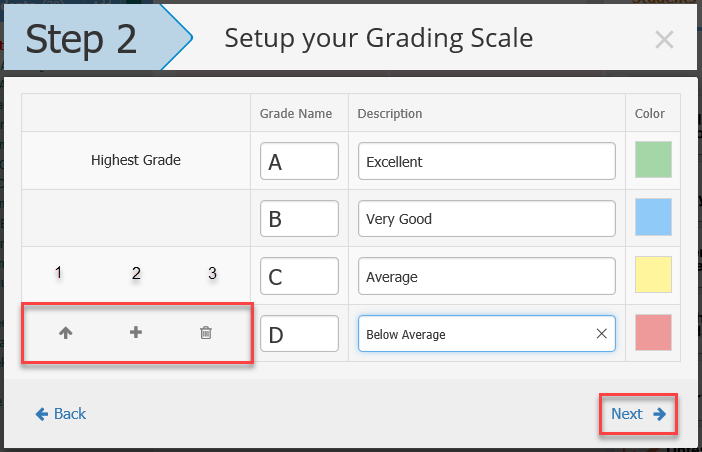 9. Step 3 – Click "Run Report" using default percentages (right hand side). Below are the default percentage ranges for any test that does not have a grade assigned to them.  The percentage ranges can be edited. See #10 through #15 below for instructions on running the report with default percentages or how to edit the percentages. To create custom grading ranges, skip to #16 below.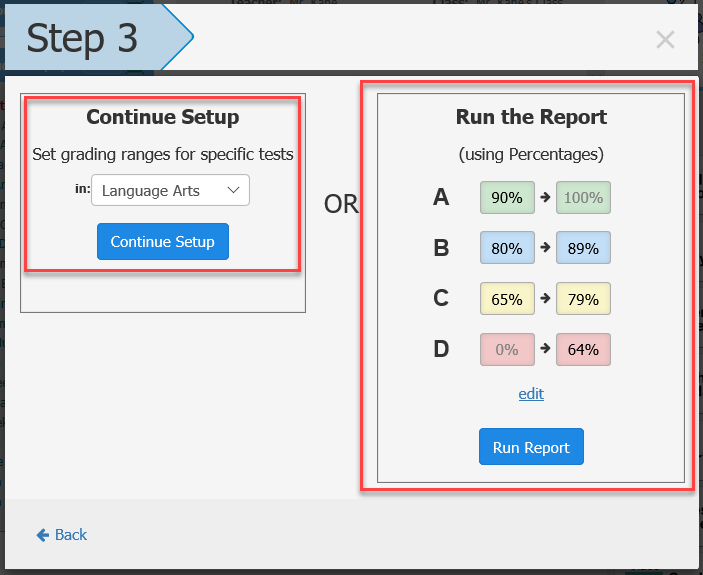 10. To use the default percentages, click "Run Report".
11. To edit the percentage ranges, click "edit".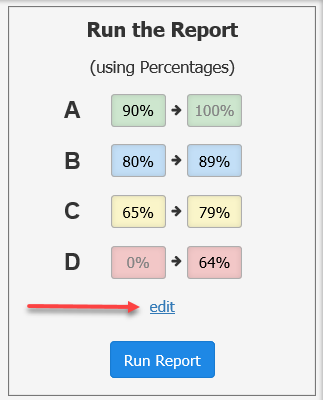 12. Click "edit" again to edit the percentage ranges.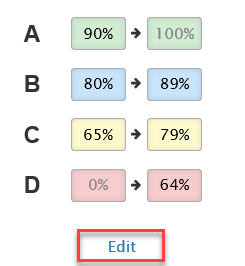 13. A pop up will display "Editing the Default Percentages will affect all tests currently using Default Percentages for A – B – C – D scale". Click "OK".

14. Edit the percentages as desired. A field will automatically populate the percentage on the next range; they must be consecutive without a gap. When finished, click "OK".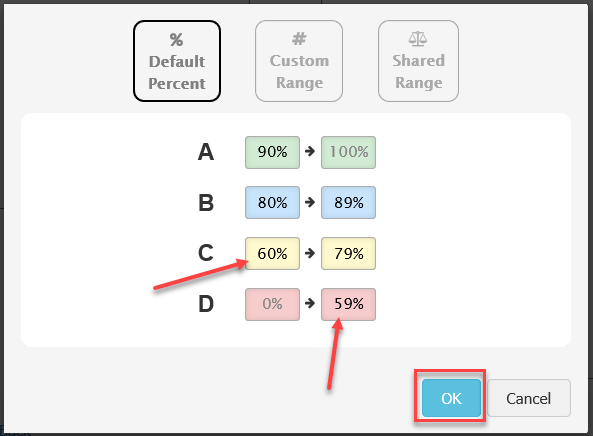 15. Click "Run Report":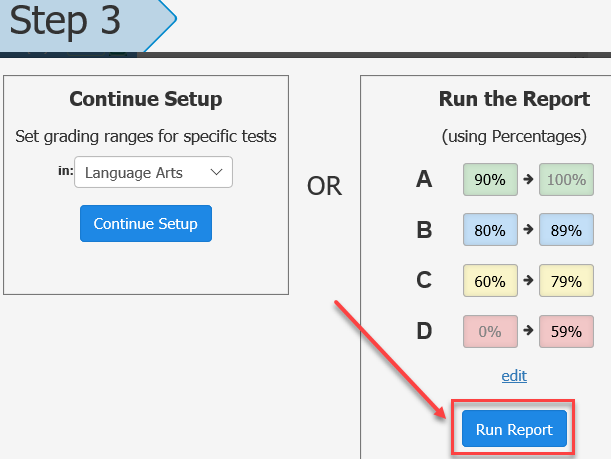 16. To set custom grading ranges, click "Continue Setup" on the left side: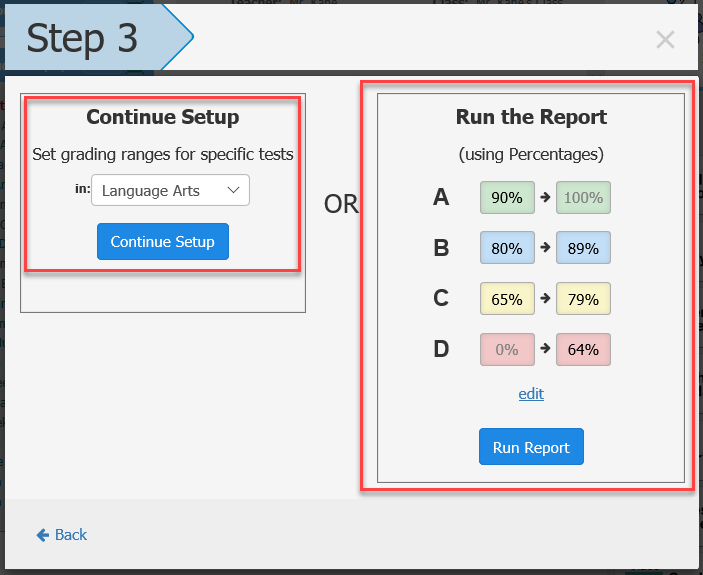 17. Step 4 - Choose # Custom Range and enter the grading ranges based on the number of questions on the test.  Click "Next" to continue setting up the grading ranges for each test within that Subject Tab.  The total number of questions will update for each test.   (The tab name is in the brackets in the upper right.) By default, the Grading Range will be shared with all teachers in your school (if teachers are linked). Uncheck the box if this range should not be shared.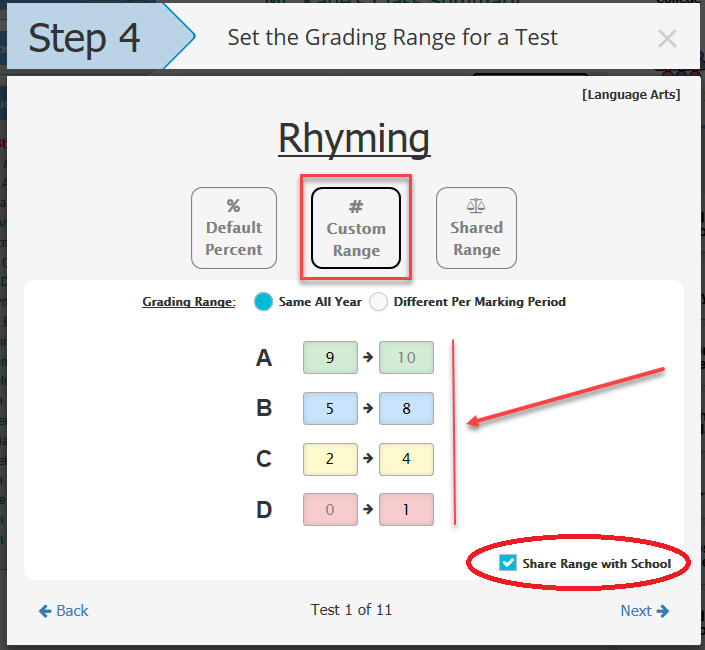 18. Select a different Subject Tab to continue setting up custom grading ranges or click "Run Report" to view the updates.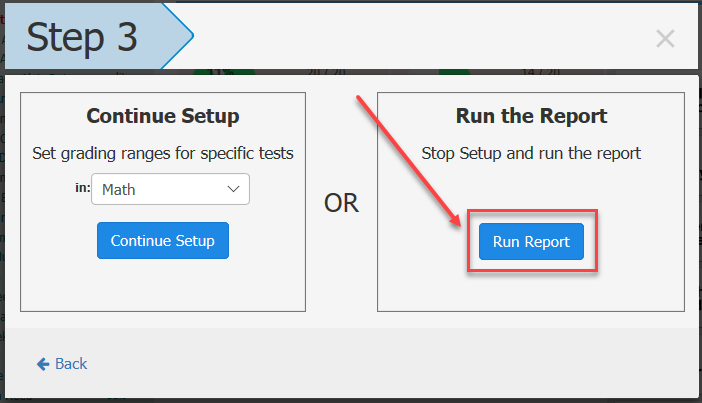 Beginning video:
Creating Grading Ranges video: