The Untested Students report shows the list of students that have not been administered a test within a defined number of weeks. The list can be viewed or printed and a test can be started directly from this report by clicking on a student and test.
Step-by-step instructions can be found below each video.


Viewing Untested Students
1. Click Untested Students on the right hand side of the Home Page: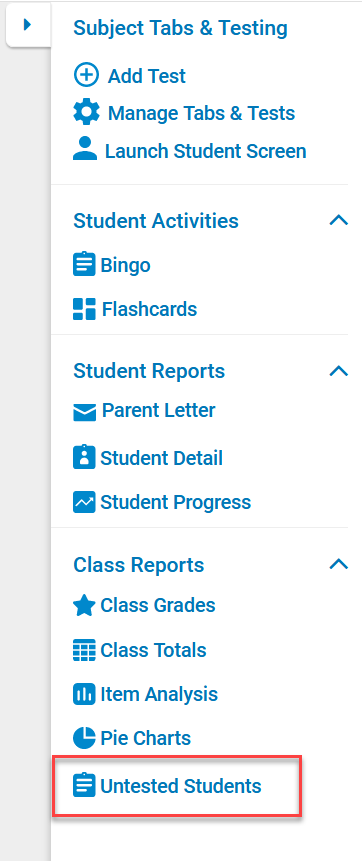 2. A table will display the tests based on the subject tab that was selected. Navigate to a different subject tab or specific test by using the drop down arrows.

If a single test is selected, the screen will provide the option to "Show only untested" and "Back to all tests in subject":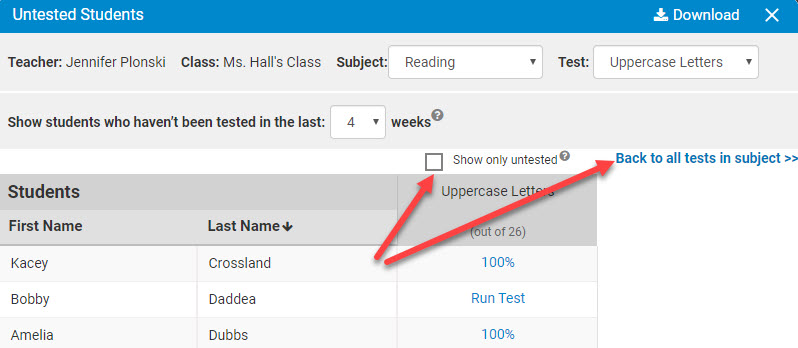 Using the drop down arrow, select the number of weeks to view students who have not been tested in the selected time frame:

Testing an Untested Student

1. Hover over "Run Test" for a specific test and student.


If the test has never been given, a popup will display "Last date tested Never":

If the test has not been given in the time frame selected, a popup will display the last test date:

2. Click "Run Test" and the test will launch.
3. After testing the student and the "Close" button is selected, the Untested Students report will pop up and display the score as number correct out of the total number of questions. A check mark will display until another test is run or the report is closed:

For tests that display a score:
If a test was given in the selected time frame and the 100% is black, the test cannot be given again from this report.
If a test was given prior to the selected time frame and the 100% is a blue hyperlink, the entire test can be given again.
If a test was given in the selected time frame but not 100% correct, the number correct out of X will be gray:

Downloading the Untested Students Report
Click "Download", then "PDF" or "Excel", and save the file to your computer: