The School Totals Report is only available in a School or District Admin Account.  This report will give an overview of the entire school or by individual teacher.
1. Select "All Teachers" on the left under the Teachers heading.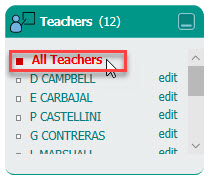 2. Click the School Totals Report button on the right of the Home Screen.


3. Select reports options that are available at the top:
Show Marking Periods – Select which "track" or marking period if there are more than one in the school or district.

Display Current Scores Only – If this box is checked, only the last score in the current marking period will be displayed.  If this box is not checked, the Baseline and scores from all marking period that have passed will be displayed.

4. Sort the report by clicking on Last Name, Marking Period for a Test, or the Average % Correct. The arrow next to the column heading identifies the sorted column.