Q:
How do I export data?
A:
Data can be exported from a District Admin Account to a CSV file.  Log in to the account.  Go to the Student Explorer.  Click on the Advanced Import/Export tab.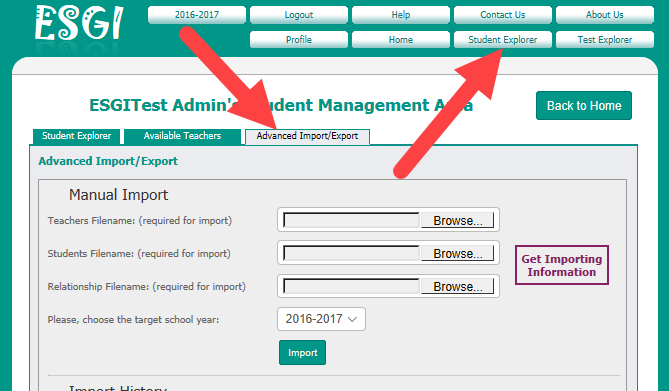 Scroll to the middle area titled "Manual Export".  Check the boxes next to the tabs you want to include.  Exporting should be done with Deployed Managed Subject Tabs.  After you have selected all the boxes, click "Show Tests".
Then check the boxes next to the tests you want included in your import.  Decide if you want the Basic, w/ Answers, or w/ Questions export and select it from the drop down menu.  Please see this page for the fields included in each option.  Decide if you want the data as of today, or as of a past date.  If you want testing data as of a date in the past, in the drop down menu, select the term date or choose custom and enter the date.
If you want to save the settings you just selected (for example, if you had to click quite a few boxes to select the tabs and tests), enter a name for the setting and click "Save These Settings As:".  Then click "Export".  It may take a few moments, especially if your district is large, to compile all the data and create the report, but once it does, it will appear in the Report History.  Click "Download" to open or save the CSV file.